eVyoog EIS Finance Management module specifically designed to meet all the accounting and finance requirements in a company.
Finance Module includes a Finance Dashboard (360 degree view) which is rich in analytical representation of the overall Financial health of the Organization including financial planning & budgeting. eVyoog EIS Finance module can also be integrated with other processes such as Sales, Purchase, Inventory, Maintenance & HR Modules.
eVyoog EIS Tax management includes tax settings and provides tax reporting and audit functions. It also caters to the GST related report requirements.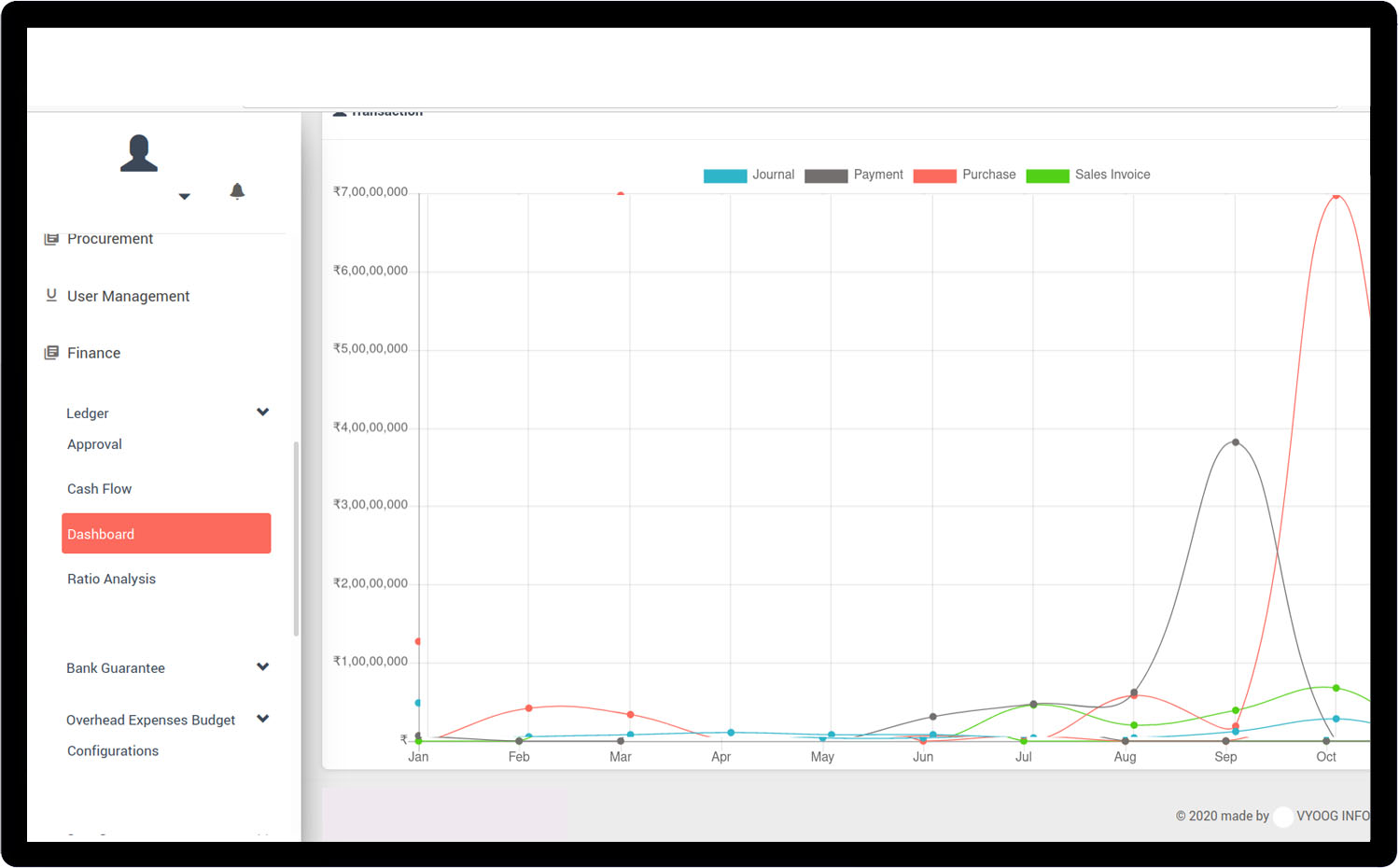 eVyoog EIS Finance and Accounting module will help you to turn all the paperwork into online reports and sheets that are available for anyone who has access rights.
eVyoog EIS includes time-saving features like in-built workflows; they automate your accounting and streamline the process of data entry. It also improves the management of cash to resolve the problems of cash flows, and simplifies complex accounts payable and accounts receivable activities.
eVyoog EIS helps to Create and Manage Ledgers and multi-level Ledger grouping, Manage Budgets, Capital investment, Fixed assets, Direct & Indirect income and expenses.
eVyoog EIS enables Users to gather, track, and analyze financial information from different departments. It can also generate financial statements like balance sheets, profit and loss statements and so on. All this automation makes it absolutely easy to collate data across the entire organization and use the information to manage your business better.
Automated voucher records creation reduces manual efforts, delays and missed payments.
Integrated Finance module with Human Resources, Sales, Purchase, Inventory & Maintenance modules helps the Organization to track & control spending against budget & revenue.
Financial reports are automatically generated and organized for easy access to Management on a real time basis. It also facilitates Bank Reconciliation process for a given period.
Financial dashboard and analytics feature provides insight to critical details helping the management to understand and make necessary changes to their company's financials.
watch Finance Management Video
Looking for Business Solutions
We are here to support you, contact us for free demo.
Vyoog Information Pvt Ltd.,
52, Lal Bahadur Colony, Peelamedu Coimbatore - 641004 Tamilnadu, INDIA
© 2022 Vyoog Information Pvt Ltd | Made From India. All Rights Reserved.