eVyoog EIS provides the smartest solutions that automatically streamline the fulfillment and supply chain management.
eVyoog EIS Inventory Management includes multiple cost-efficient processes that can be tailored to the requirements of various Business types and help to optimize their Inventory costs. eVyoog EIS provides the smartest solutions that automatically streamline the fulfilment and supply chain management. eVyoog EIS has Built-in ABC analysis for inventory item categorization, that helps to manage the entire volume and assign relative priority to the right category.
The EOQ model in eVyoog EIS is meant to define the ideal order quantity a company should purchase for stock by gathering the costs related to a product and combining these factors, helps balance all ordering costs ideally.
eVyoog EIS Enables Users To Manage Material Inward, Issues, Rejection, Returns And Outward
eVyoog EIS Has Stock Memo That Handles Temporary Inward And Outward Of Service Items, Tools, Etc.
In Addition To Tracking Raw Materials And Stocked Items, eVyoog EIS Also Records Work-In-Progress (WIP) Items, Finished Products And More.
Inward Or Outward Transactions Related To Manufacturing, Purchasing And Selling Are Recorded In The Stock Ledger Which In Turn Enables Users To Generate A Monthly Stock Report And All The Transactions Are Automatically Reflected In The Finance Module.
Inventory Dashboard Helps The Store Team At A Customer Facility To Monitor Frequently Used Items
Centralized Purchasing Reduces Duplication When Replenishing Stock, And Having The Ability To Purchase In Bulk Saves Money.
Enables User To Compare And Identify Production Losses Based On Month-On-Month Stock Transactions, Production Output And Sales Invoice Transactions.
Users Can Reduce The Amount Of Time The Company Spends By Automating Manual Tasks And Redundancies Like Order Routing, Purchasing, And Maintaining Accurate Inventory Counts.
eVyoog EIS Inventory is equipped with smart notifications to alert Business Users about crucial information and to make decisions without delays.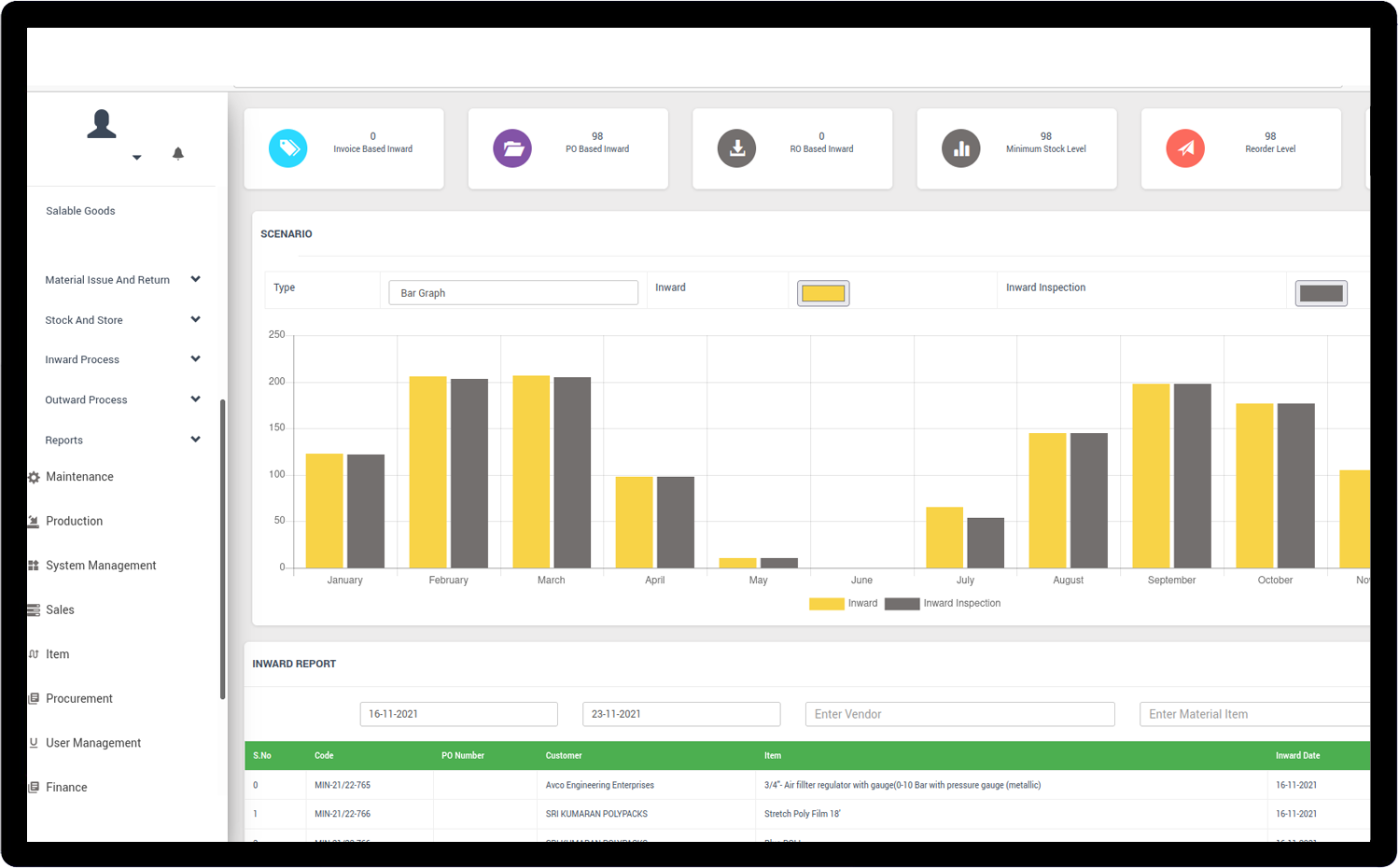 Displaying of overall material movement status.
Configurable widget as per the customer's need.
Graphical representation on material items for easy understanding.
Easy Reports, Easy to use.
User friendly goods inward process.
Tightly secured gate in process for the material inward.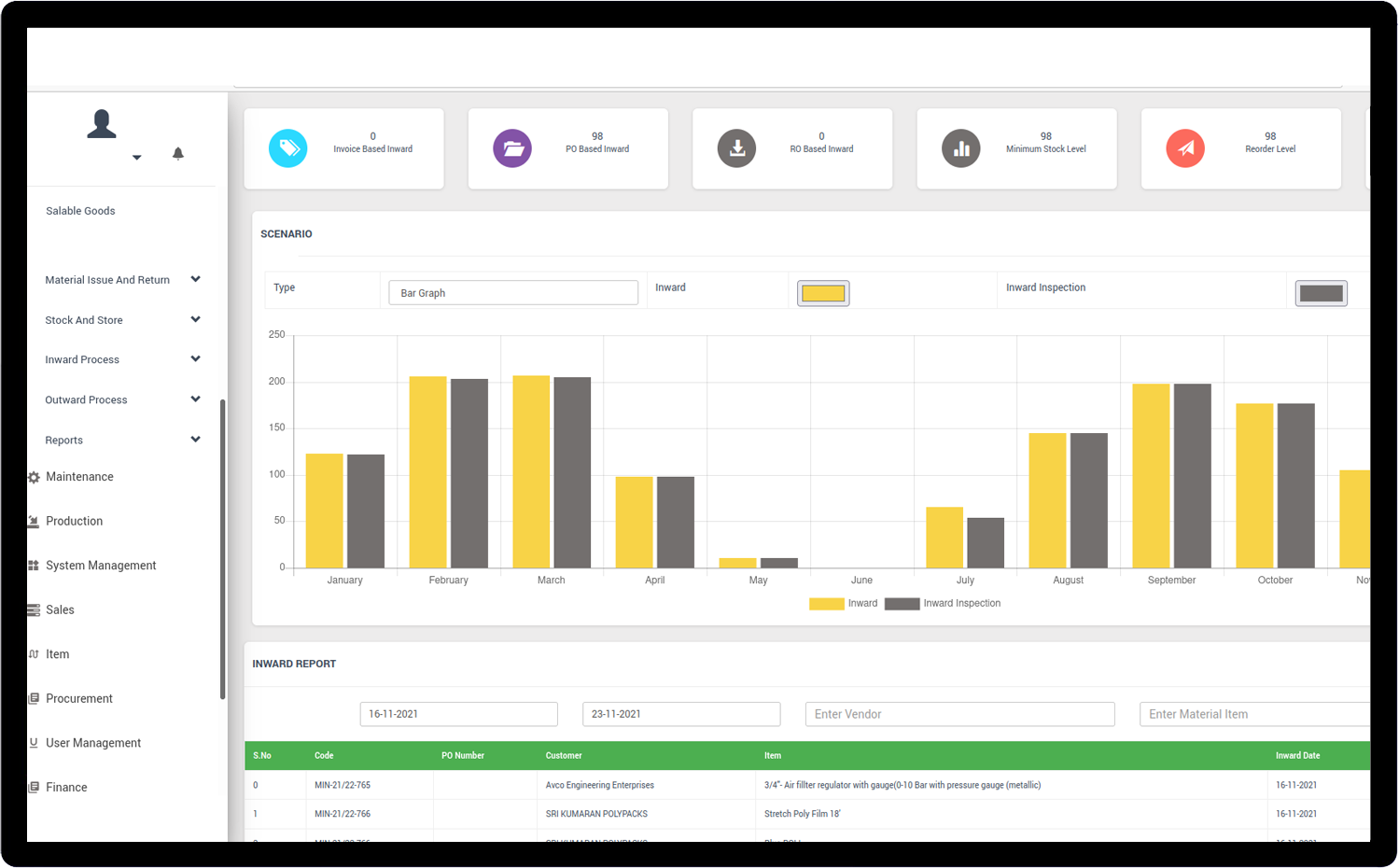 Secured outward process connected with concern departments.
User friendly gate out pass.
watch Inventory Management Video
Looking for Business Solutions
We are here to support you, contact us for Free a demo
Vyoog Information Pvt Ltd.,
52, Lal Bahadur Colony, Peelamedu Coimbatore - 641004 Tamilnadu, INDIA
© 2022 Vyoog Information Pvt Ltd | Made From India. All Rights Reserved.