sales life-cycle and increase the customer satisfaction. eVyoog EIS Sales Management solution incorporates flawless inventory, marketing, HR, finance, payroll etc and assists your team to plan, schedule, observe, regulate, and arrange the contacts. eVyoog EIS permits the Users to have an active control in the sales department.
eVyoog EIS Sales Management alerts about the openings and current activities all at a single place which ends up in improved performance and time management and eliminates any bottlenecks during the sales activities before they identify an issue.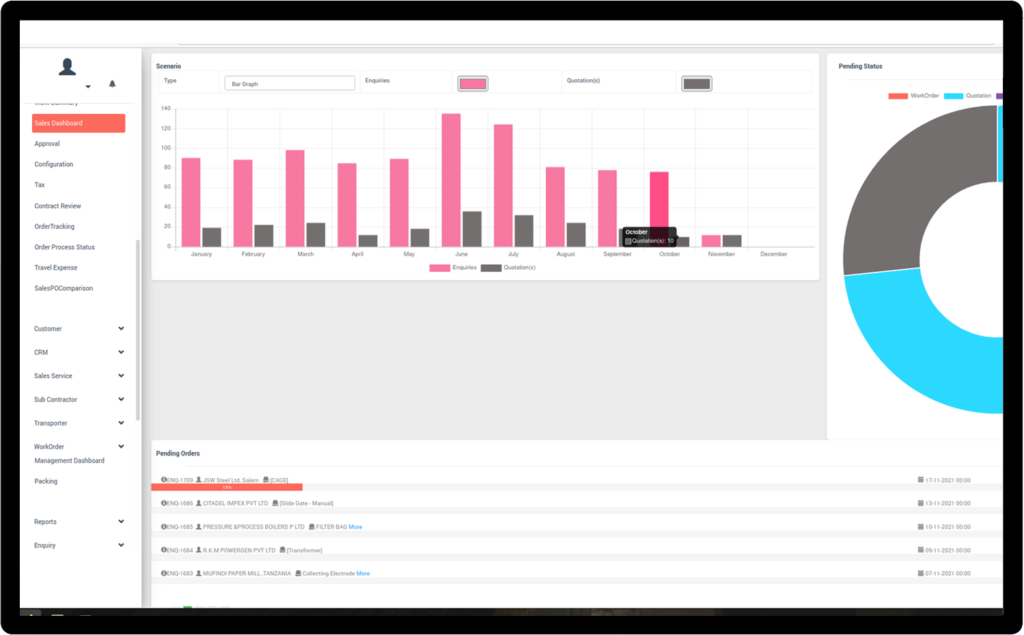 Displays current sales status in the sales dashboard.
User can easily check the sales status for any period.
Widgets can be configured by the user.
Dashboard notifies pending sales items.
Graph highlights month wise sales turnover.
List the highest turnover item(s) for the given period.
List the high volume customer(s).
eVyoog EIS Includes The Records Of Complete Products And Services Delivered To Clients And Keeps The History Of All Previous Transactions Connected With Them And Works In Combination With All Procedures On The System.
eVyoog EIS Supports Multiple Dispatches Against A Single Sales Order.
eVyoog EIS Helps To Know Exactly When Customers Need To Be Contacted For Product Replacement, Contract Renewal, Or For An Upsell To A New Product Or Service Which In Turn Increases Chances Of Closing A Sale.
Inward Or Outward Transactions Related To Manufacturing, Purchasing And Selling Are Recorded In The Stock Ledger Which In Turn Enables Users To Generate A Monthly Stock Report And All The Transactions Are Automatically Reflected In The Finance Module.
Users Are Able To Take A Proposal From A CRM And Turn It Directly Into An Order Without Having To Change Systems And Re-Enter The Data In Multiple Locations. This Saves Time And Improves Organisation Efficiency.
eVyoog EIS Sales Module Enables The User To Prepare Reports To Track Sales Trends Over Different Time Periods, Analyse Consolidated Data And Forecast Sales. It Also Helps To Improve Sales Visibility And Order Processing Efficiency.
HIGH VISIBILITY OF SALES LIFECYCLE AND REPORTING
Notification of order tracking status as scheduled.
Automated report generation with scheduled communication to the concerned user by email configuration.
User friendly configurable reports.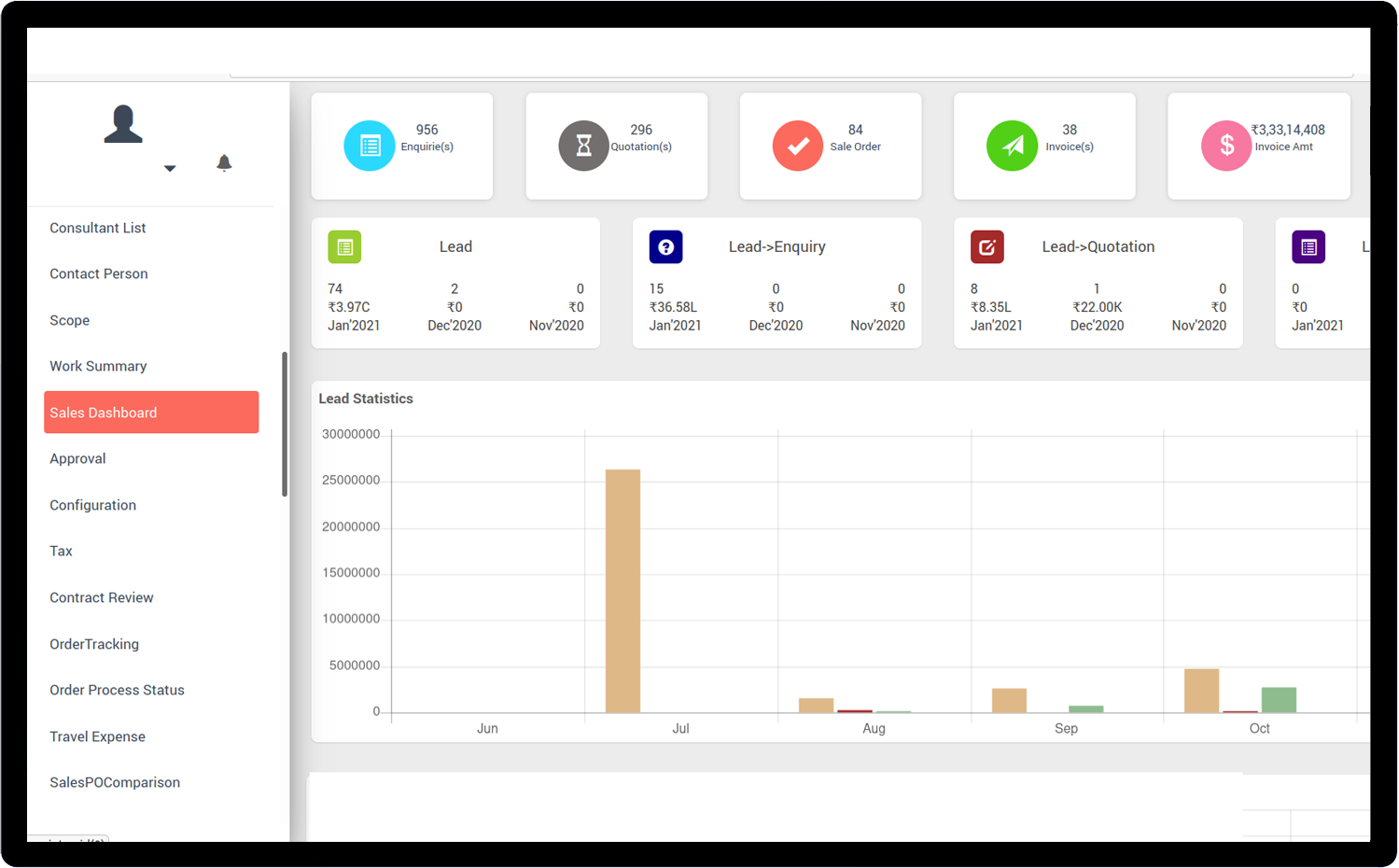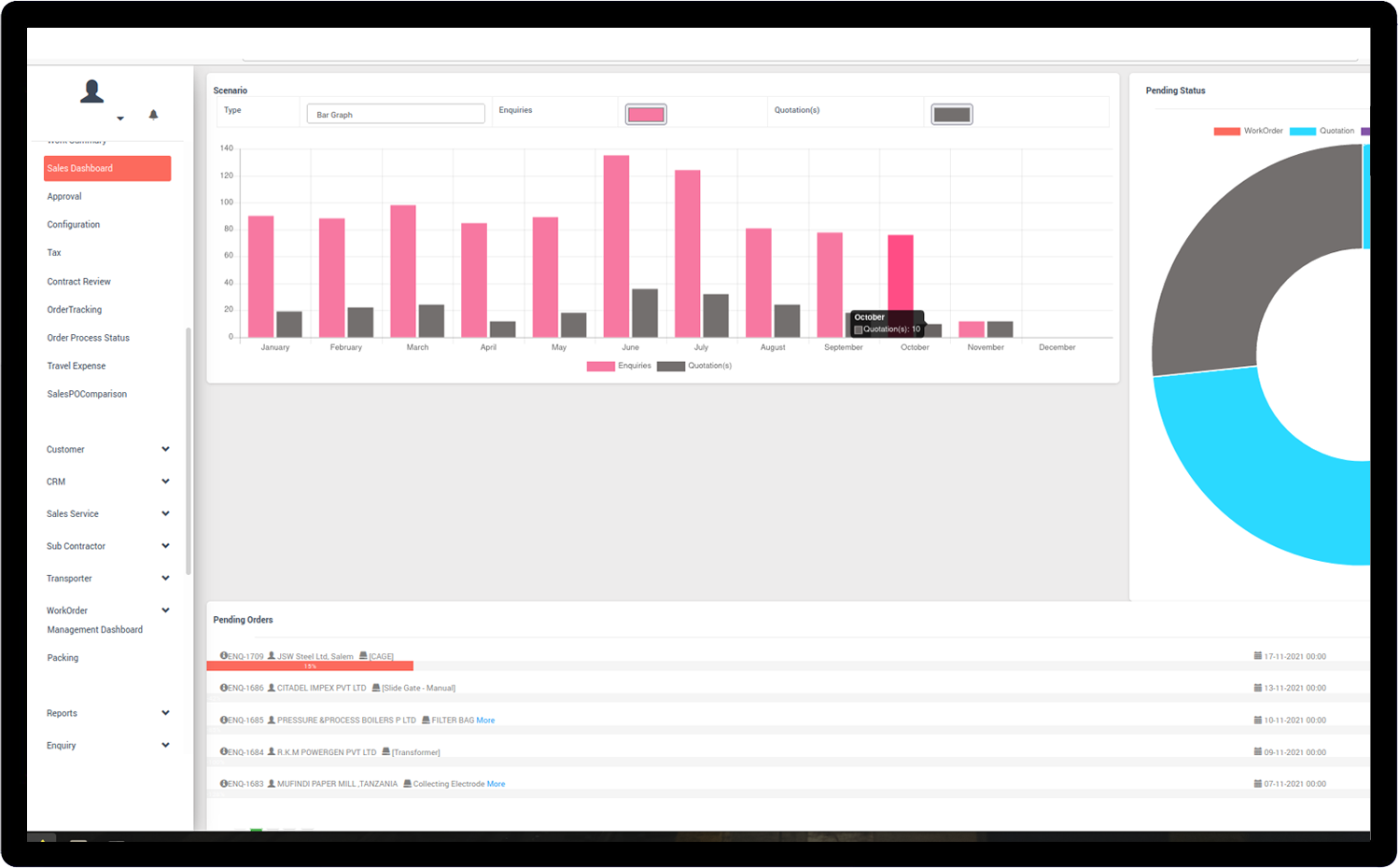 TRACK SALES STATUS FROM ORDER TO DELIVERY
Instant order status by single click connected from all departments.
Any where access of order status by mobile.
Filter option to capture the required data.
Looking for Business Solutions
We are here to support you, contact us for further queries. 
Vyoog Information Pvt Ltd.,
52, Lal Bahadur Colony, Peelamedu Coimbatore - 641004 Tamilnadu, INDIA
© 2022 Vyoog Information Pvt Ltd | Made From India. All Rights Reserved.